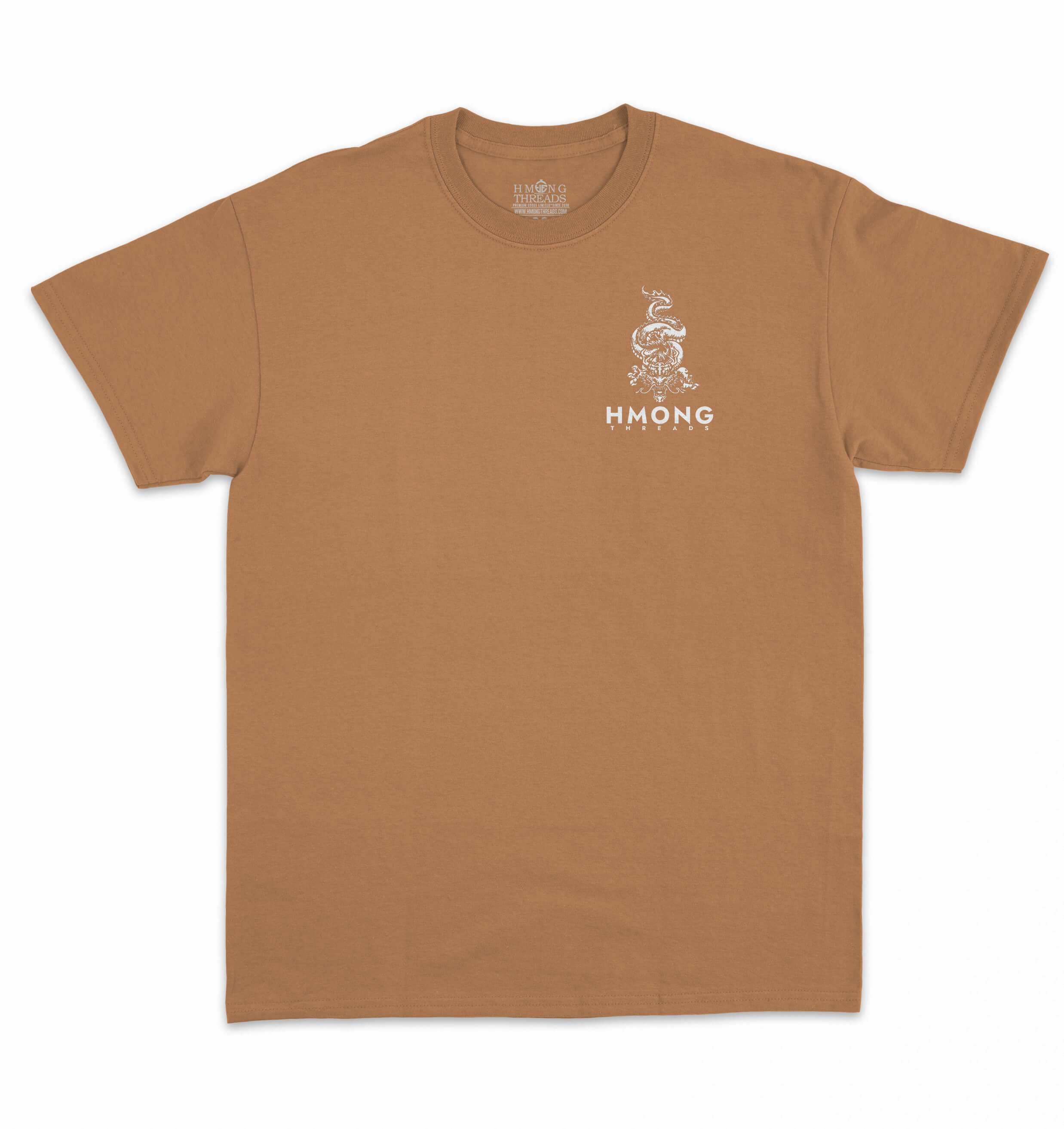 Embodying the Resilient Hmong Spirit Dragon - Coconut T-Shirt
Embodying the Resilient Hmong Spirit - Dragon- Coconut Color T-Shirt

Step into a world where the spirit of the Hmong people roars like a mighty dragon. Our remarkable t-shirt design pays homage to the parallel strength and grace exhibited by the Hmong community, drawing a captivating connection between their spirit and the mythical dragon.

Just as the dragon symbolizes power, wisdom, and protection, the Hmong spirit blazes with unwavering resilience. The Hmong people have endured challenges through the ages, overcoming obstacles with an unyielding determination reminiscent of the dragon's fiery resolve.

This intricately designed t-shirt captures the essence of this parallel, with the dragon's fierce visage intertwining with Hmong-inspired elements. Inspired by Hmong artistic traditions, weave radiant around the dragon, representing the enduring cultural heritage and ancestral wisdom passed down through generations.

Like the dragon, the Hmong spirit radiates strength and courage. It embodies a spirit that soars above adversity and adaptability that matches the dragon's ability to navigate diverse landscapes. Just as the dragon is revered and respected, the Hmong people are known for their vibrant culture, unique traditions, and enduring sense of community.

By wearing this extraordinary t-shirt, you become a symbol of the Hmong spirit and its deep-rooted connection to the dragon. Embrace the resilience, wisdom, and tenacity that have characterized the Hmong people for centuries. Allow the dragon within you to awaken, igniting your inner power and inspiring others with your unwavering spirit.

Celebrate the bond between the Hmong people and the dragon, beautifully embodied in this captivating t-shirt design. It serves as a reminder that within each of us lies a dragon waiting to be unleashed — a symbol of strength, courage, and the extraordinary spirit of the Hmong people.
Designed on a unisex streetwear short-sleeve tee. 5.6 oz -100% Ring-spun combed cotton, super soft hand-feel.